- News and Updates -
26 March 2017
Pictures of many of the cars are on the home page and the Facebook page. At the closing luncheon, the judges recognised the following participants:
(click on the winner to see the car)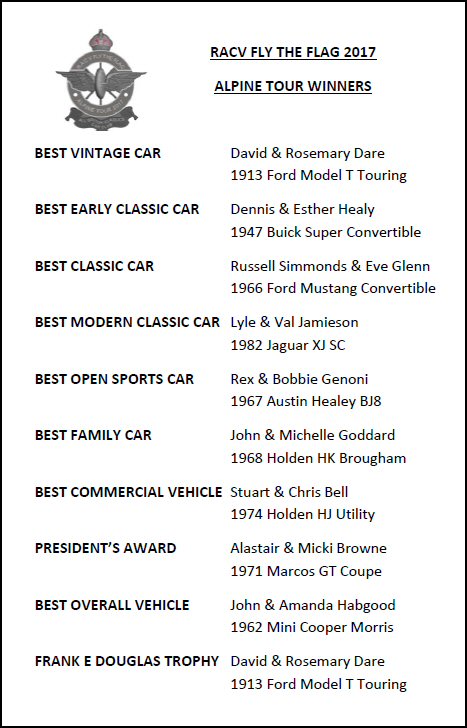 ---
19 March 2017
Tour started at RACV Noble Park. Welcome to the 200+ vehicles which are making the tour. Let's go!
Tony Pettigrew
---
14 December 2016
The allocated spaces have been filled. You may still submit an application to go on the waiting list in case of cancellations though.
Tony Pettigrew
---
18 September 2016
The time has come - brochures have been mailed out. The online brochure and entry form is available with the button at the left. Keep in mind that the entry form MUST be completed and MAILED to the Tour Committee. For security reasons, we do not accept on-line submission of the form and payment information. You will be able to complete the form with your computer and save your details before printing it for submission.
Details are contained in the brochure which will allow you to make your accommodation arrangements. We are looking forward to a great Tour.
Regards;
Tony Pettigrew and FTF Committee
---
13 July 2016
It has come to our attention of a potential accommodation problem on the 2017 FTF tour which has prompted us to release some information prior to the mail out of application forms scheduled for early September.
Friday 24th March 2017 is the last night of the tour in Mansfield, and we are advised there could be a big demand for accommodation on this night.
If you intend going on the 2017 tour, we recommend you secure your accommodation by ringing 1800 039 049 and stating you are a "Fly The Flag" entrant.
Regards;
Tony Pettigrew and FTF Committee
---
March 2016
The 2017 RACV Fly The Flag Alpine Tour is from Sunday, 19th March to Saturday, 25th March. Details are being worked out, and applications will be available and accepted from mid-September.
Tony Pettigrew
---